Welcome to Kiran Gutha's blog on SiteGround WordPress Hosting Review 2020 – (Uptime, Speed, Security, Price, and Support).
Are you looking for a good website hosting service?
I know how difficult it is to choose the best hosting for your website. 
I have tried different hosting services, SiteGround is the one I prefer most of all.
Not surprisingly, we are using it for our sites for years and we have tried all the hosting plans offered. We practically grew up using SiteGround hosting on our sites!
SiteGround hosting is one of the finest hosting companies in the world to host your websites. 
SiteGround is the best WordPress hosting provider, and in recent years, its popularity has increased among web site developers and administrators, and it has set itself a place among the largest global hosting companies.
SiteGround offers optimized hosting plans for WordPress with enhanced servers that allow you to have excellent performance, security at the highest levels, all covered by an excellent support service that responds in a very short time.
Not satisfied with your current hosting service and want to transfer your website to SiteGround hosting, you can do it yourself using the free SiteGround Migration plugin or contact the support center for help.
In this Siteground hosting review you will learn what are my experiences with Siteground WordPress hosting.
SiteGround WordPress Hosting Review 2020
SiteGround Hosting – Is it really the best WordPress hosting for your website?
This review will give you a complete overview of the SiteGround hosting services. After reading this SiteGround review, you can decide, whether it is good for you or not?
Let's jump into it.
Introduction To SiteGround Hosting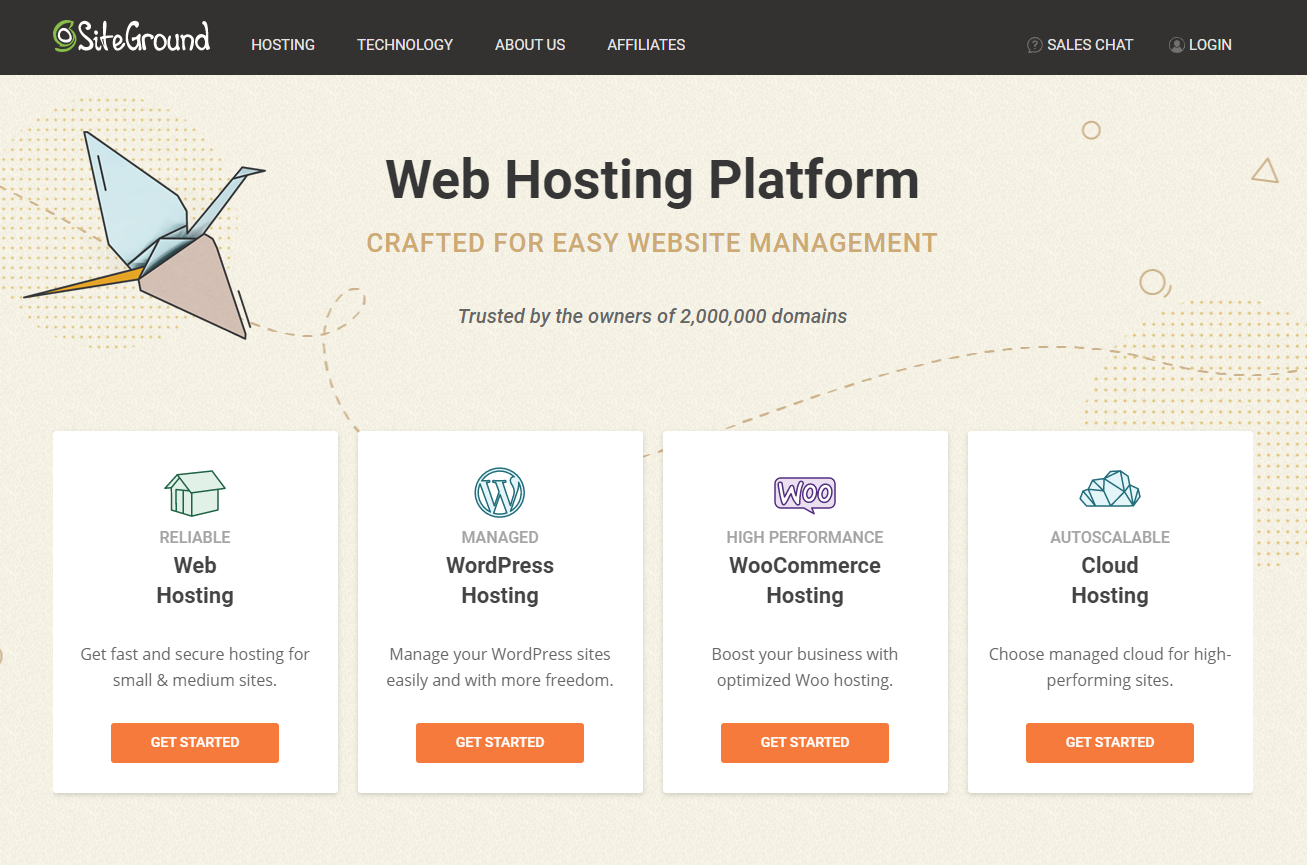 SiteGround is one of the best web hosting services in 2020. SiteGround company was established in 2004 in Bulgaria. Since their establishment, they have made a good name despite intense competition. Almost everyone using SiteGround's hosting services, whether experts or beginners seem very amazed by their service.
Kiran Gutha's review will give you information on the features they offer, the plans, and everything you need to know before buying.
They are on the top shelf to provide support, uptime, speed, etc. and they have an excellent reputation in the web hosting industry. In addition, they have servers in many geographic areas for greater comfort and easy access to their clients.
Now the company is registered in the United States, UK, Bulgaria, and Spain and has many data centers around the world.
The company has many servers in the United States of America, 3 data centers distributed between Virginia, Chicago, and Council Bluffs, and also it has data centers in London, Amsterdam, Bulgaria, Spain, and Singapore.
With a lot of experience in the industry (more than ten years), SiteGround offers different products such as Shared Hosting, Cloud, Dedicated, VPS, and WordPress.
They are providing SSD drives in all their plans to speed up services.
The technological advances that the company has;
SSD drives for hosting servers

Supercacher

NGINX web server technology

HTTP / 2 protocol

Linux containers
SiteGround + WordPress = ❤
Normally, 'WordPress Hosting' is a marketing fabrication, while web hosting is always just web hosting. However, at Siteground I can say that the name 'WordPress hosting' is justified. Siteground is therefore designated as a preferred hosting provider on WordPress.org.
They have all kinds of extra tools for WordPress. So they automatically update everything from WordPress for you, including plugins.
In addition, you can contact Siteground support with all questions, so also with questions that have nothing to do with web hosting but are purely about WordPress. The one-click WordPress installation with automatic SSL is another good example.
SiteGround Hosting Packages
Siteground has 3 hosting packages:
 Which SiteGround Hosting Package Do You Need?
The difference is the number of websites, disk space, and extra features.
If you have one simple business website, the StartUp package is sufficient.
The GrowBig account makes sense if you want to host multiple websites or if you have a website that is important to keep up and running. 
You can then use a staging site (copy of your website) to test new plugins or larger updates of WordPress, plugins, or your theme. 
The GoGeek account makes sense if you want to host 10-20 websites, need an even faster server, or need faster support.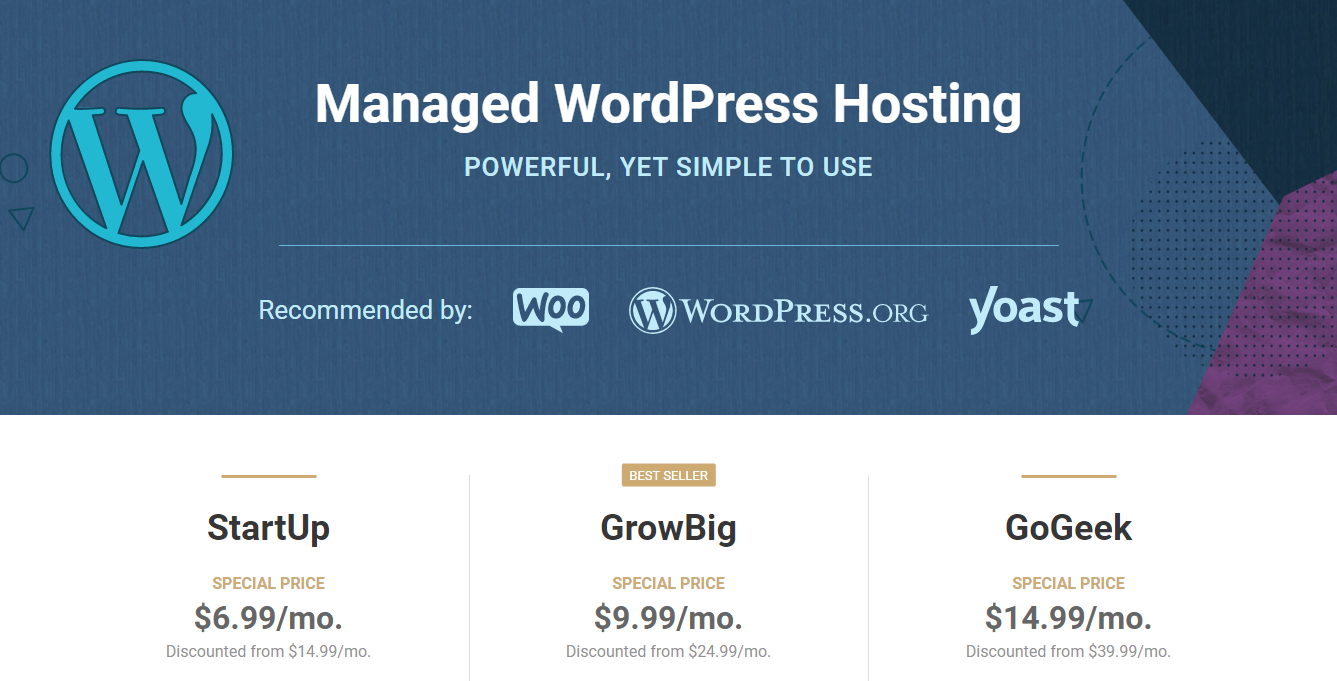 The Main Differences Between SIteGround Hosting Plans
StartUp: StatUp plan is a very basic plan that is currently available at $ 6.99 / month due to a 60% limited time discount. This plan is suitable for an average size blog or a commercial website, as it allows only 10,000 visits per month.
Ideal for those who have only one small/medium-sized website and need less than 10 GB of webspace. This package includes the cache service for static content only (this will make your site faster). 
If you need to restore one of the security copies you will have to pay an extra price. Alternatively, you can create backup copies yourself using cPanel.
When purchasing this plan, please note that you can only host one website on it. The essential characteristics are:
HTTP / 2 enabled servers

Unlimited emails & DBs

24/7 technical support

10 GB of SSD storage

10k monthly visitors

Let's Encrypt SSL for free

Free daily backup

Free setup & Transfer

Free website builder

cPanel & SSH Access

Cloudflare Free CDN

Unlimited My SQL DB

30 days money-back guarantee
GrowBig: As your blog or website grows, it can change to the highest, like the GrowBig package. This plan allows you to host multiple websites. This plan is also suitable when you have multiple websites with average traffic and includes the three-tier SuperCacher technology.
This package allows you to host more than one site, with 20 GB of space. You will have the priority for technical support requests, which will be a little faster than the standard support service. 
In addition to the caching system for static content, this package also allows you to cache dynamic content. With the GrowBig package, you can restore one of the safety copies saved by SiteGround for free.
The plan allows 25,000 visits per month. Generally, this plan is available at $ 24.99, but now due to a 60% discount, you can get it for just $ 9.99. 
This plan includes all essential features, including premium ones:
Technical support on a priority basis

Exclusive SuperCasher technology

20 GB of data storage

Good for 25k monthly visitors

You can host multiple websites

Premium 24/7 technical support

Incredibly fast server speed

Unlimited MySQL database

Free website migration

One year of free Wildcard SSL

Free app installers

Daily backups

30 backup copies
GoGeek: If you have money and are looking for high-performance hosting, choose "GoGeek". This plan is for high traffic websites as it allows 100,000 visits per month.
This plan also comes with three-layer SuperCacher technology. According to the company, there are few users on each server who share the resources.
In addition to having more space (40 GB) and better performing servers, other advanced features are included in this package. 
For example, you can create (and restore) instant backup copies, access Git repositories, and have a staging space where you can keep a copy of your site and modify its code without affecting the live version.
This plan usually costs $ 39.99 but is now available at a 60% discount, so the amount becomes $ 14.99. That's why don't waste your time just clicking on the link and grab it before it's too late.
This plan includes essential and premium features such as:
You can host unlimited websites

Free PCU Compliance

Stepping option for WordPress and Joomla

Unmeasured traffic and database

cPanel and SSH

Free email accounts

24/7 priority technical support

SuperCacher for more speed

Free SSL WildCard 1 year

30 backup copies

1-Click Git Repo Creation

Free website builder

40 GB of SSD-based web space

Free daily backup system

30-day money-back option
Geeky preparation tools for Joomla and WordPress that allow you to test your changes before submitting material online.
Free PCI Compliance – This certificate guarantees the necessary security standards in the event that your website accepts credit cards and helps maintain a secure environment.

What can you expect from the SiteGround hosting packages?
SiteGround offers 3 shared hosting packages that typically cover the needs of most users, except if it is a really large site. Note that all packages have the following characteristics in common:
SiteGround doesn't limit the traffic your site can receive. But, if you have a lot of visitors (e.g. more than 100 thousand) every month, shared hosting could be limited.

Domain registration is free of charge for the first year. 

Unlimited databases and email accounts.

30-day money-back guarantee.

SSD disks and its own caching system.

24/7 support via phone, chat, and email.
SiteGround Prices – How much does SiteGround hosting cost?
The following prices refer to SiteGround's shared hosting packages. It is the most popular hosting service on SiteGround. It also offers additional hosting solutions like dedicated hosting and cloud hosting but these prices are specific to shared hosting packages.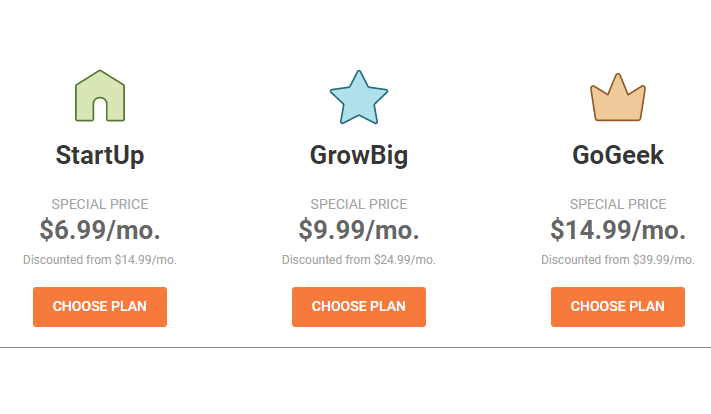 SiteGround Shared Hosting Prices
StartUp

GrowBig

GoGeek

Sites

1 site

unlimited

unlimited

Support

Phone, email and live chat

Phone, email and live chat

Phone, email and live chat

Webspace

10 GB

20 GB

40 GB

Database

unlimited

Size max. 500MB

unlimited

Size max. 750MB

unlimited

Size max. 1000MB

Subdomains, FTP accounts, email, and bandwidth

unlimited

unlimited

unlimited

Backup

Caching

Staging

30 days

Static Caching

Not included

30 days

Dynamic Caching

Not included

30 days + On request

Dynamic Caching

Included

Price for the first contracted period

$ 6.99 / month

$ 9.99 / month

$ 14.99 / month

Renewal price

$ 14.99 / month

$ 24.99 / month

$ 39.99 / month
You can try SiteGround for free for 30 days.
The Benefits of SiteGround Hosting
Siteground hosting has many advantages, let's take a look at some main features and benefits of this best hosting service.
SiteGround Guarantees 99.9% Uptime 
Uptime is very crucial for your website because uptime is the time during which your website is operational or we can say that it is accessible to visitors.
The uptime of your site directly affects visitors.
Therefore, you must host your website in the hosting that provides exceptional server uptime.
Linux container technology being used by the company which is known as resource-efficient. They monitor servers more frequently than general monitoring to discover problems before they become serious problems.
In addition, another technological advance of the company is the account isolation technique. w \ With this, if one hosting account is affected and is not working due to some problem, such as increased traffic, your account isolation technique will not allow the other account to be affected.

The uptime offered by SiteGround is 99.99%. In our experience, uptime for any month is 99.99%. The minimum time we experience is 99.97%, which clearly shows that they never disappoint your website. 100% uptime is also feasible using dedicated hosting, but it's very expensive.
Many other companies claim 99.99% uptime, but the point is, did they deliver it? Yes, some companies deliver it, but their hosting plans are expensive, while some companies only focus on claiming instead of delivering.
Therefore, our conclusion is that SiteGround offers a good and competitive uptime compared to many other companies. Thumbs up! For the uptime, they are delivering to their customers.
Speed Makes The Difference
SiteGround pays a lot of attention to the speed of your website.
SiteGround Speed
The loading speed of your website is another important and very critical factor, as Google has already mentioned that they consider it as a ranking signal. It means your site should load in a matter of a few seconds, a maximum of 2 ~ 3 seconds. Regardless of the hosting plan you use, SiteGround will offer you exceptionally fast and extremely fast server speed.
I have a good experience and found them satisfied regarding speed. There are several free speed test tools available on the internet to check the speed of the site, like GTMetrix and Pingdom. I have experienced high speed not only once, but we check it more frequently and find that they are consistent in speed.
So the question is what do they do for the higher speed that others don't. First, they use SSDs even in shared hosting to make the operation run faster compared to traditional disks.
Plus, they use the SuperCacher technology that is available with all plans except
Startup. SuperCacher technology consists of three layers; The first layer copies static content like images, scripts, etc. and puts them in RAM, so next time these contents are loaded from RAM, which is very fast compared to loading from server hard drives.
The second layer caches query from the database and stores them in RAM as a result of which, if the same query is required again, the results are displayed immediately.
The last one is the dynamic layer that caches the entire pages of your website which is sure to dramatically decrease content loading time.
Another technology that they are offering is Cloudflare CDN within the cPanel that is used to cache the contents of your site in the different data centers on the geographical limits.
So that when a visitor approaches your website, they upload content from the data center closest to the user.
Cloudflare is the best free service when it comes to optimizing your site at incredible speed. If your primary concern is site speed or experiencing slow speed with other hosting companies, then you should definitely try it.
Key Features That Improves SiteGround Speed
Fast NGINX servers in the USA, it's very important, mainly if you have visitors from the USA.

All shared website hosting servers have  SSD disks, which makes your website considerably faster (nowadays many providers have this, but Siteground already offered this in 2015, indicating that they are at the forefront of new technologies).

HTTP / 2  on all shared and cloud servers, so that the different files of your website are loaded simultaneously instead of one after the other, which also results in a faster website (they also have this from 2015, when it was certainly not standard).

A  self-developed SG Optimizer caching plugin to speed up WordPress websites. With its caching capabilities and front-end and image optimization features, it optimizes WordPress site performance so much that you can see speed gains between 20% and 500%, according to SiteGround.

Free Cloudflare CDN integration  which loads some files from the fast Cloudflare servers and makes your site faster.

According to a May 2020 blog, 40% faster processors: "We will update all processors used to host our clients on the Google Cloud infrastructure. The new N2 CPUs perform roughly 40% faster than the ones we used previously. "

The latest  PHP7  version for even faster websites.
SiteGround Free Backup Feature
Do you consider website backups to be an important factor? What will you do if your site was hacked or compromised? You must have a backup service to save your content.
There are various developers and programmers who create Themes and Plugins to help you achieve the desired functions on your website. But sometimes a plugin or a theme can destroy your website and make it completely inaccessible.
To overcome this situation, making a backup will be a lifesaver. For a premium backup service, bloggers/webmasters have to spend $ 5 ~ $ 30 per month. But SiteGround, unlike many other hosts, offers free daily backups for all plans.
So that in case of any serious problem, you can easily restore the entire site quickly. They made a copy of their data in a StartUp, but in all the other higher plans they made 30 copies. It means you no longer have to worry about data loss.
SiteGround Managed WordPress Hosting
Another very attractive offer that can lead customers to SiteGround's WP Managed Hosting. Please note that this is not offered by the other hosting companies and generally costs more than traditional hosting.
So what does managed WordPress hosting mean ??
For a newbie, will it take time to know how to properly protect WordPress websites? How to make daily updates and backups? How to maintain speed?
The solution is WordPress managed hosting. In this, the company manages all these aspects, such as security, speed, backups, etc. Now you don't have to worry about a thing, just focus on its contents because everything else becomes the company's headache.
SiteGroud Security Features
You need to protect your website because one-day security is the main problem now.
Hackers always look for security holes and every year thousands of websites are hacked by hackers just because people don't pay much attention to site security.
You can watch the video of how SiteGround secures its websites and blogs. Please take a look at it;
For security reasons, the company performs daily backups, monitors to identify security holes, updates, offers plugins, etc.
Accounts are isolated even in shared hosting, that is, if a hosting account is hacked or vulnerable due to some other reason. will not be affected.
Every year they add many rules in the firewall to protect WordPress and the other platforms as well. The company's security team releases many security patches from time to time to ensure adequate security.
In addition, its spam prevention system filters all incoming and outgoing emails, as it is very easy to spread the vulnerabilities by email. So in the end, if any vulnerability affects your hosting account after fooling all layers of security (which is almost impossible), then the company provides you with a free installation of daily backups on all plans; In that case, you can easily restore in a matter of a few clicks.
SiteGround pays a lot of attention to the security features of your website:
Technology to prevent hacked sites on the same server from infecting your site

Automatic WordPress & plugin updates  (can also be turned off if you don't want to)

Active monitoring of and proactive in case of potential  vulnerabilities

Free Let's Encrypt Wildcard SSL certificates that you installed yourself in a few clicks: these too have many more providers nowadays, but Siteground was one of the first, which indicates that they are leading the way.
SiteGround cPanel Features
SiteGround created its custom dashboard to manage your web hosting account, believe it or not, its custom dashboard is very easy to use just like cPanel. They are going to get rid of cPanel soon in the future.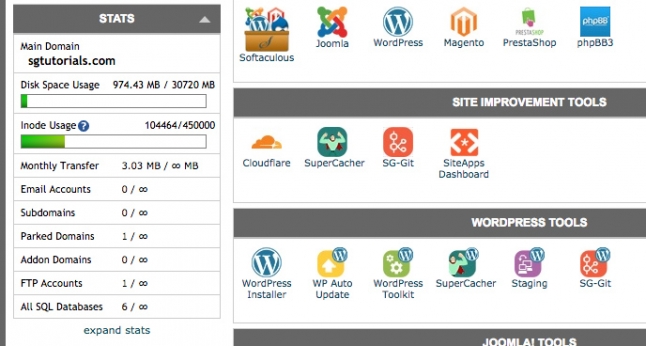 The cPanel that the company offers is very simple to easily manage in the hosting account. So what is the role of cPanel?
With cPanel, you can manage emails, domains, subdomains, file managers, different statistics, FTP accounts, backup databases, and much more. They made the panel more friendly for easy understanding.
Also, you can customize the cPanel. The company is a partner of third-party tools such as Softaculous, SpamExperts, etc. to improve the customer experience. 
The company developed some unique tools like automatic updates, SuperCacher, etc. to make services more reliable. Also, you can transfer the website from other hosting to the SiteGround at no cost.
SiteGround Servers 
SiteGround has servers all over the world. Also in the USA, Canada, UK, Singapore, India, and many other countries. This is important if you have more visitors from these countries to your website.
Free Let's Encrypt SSL Certificates With SiteGround Hosting

An SSL certificate is now a must. Otherwise, browsers like Chrome indicate that your website is not safe. That deters visitors.
With Siteground you get free Let'sEncrypt Wildcard SSL certificates that you have installed yourself in a few clicks.
These also have many more providers nowadays, but Siteground was one of the first, which in turn indicates that they are at the forefront.
SiteGround's Extra Features For GrowBig & GoGeek Plans
In these two packages, you'll get:
Multiple domains on the same account

SiteGround SuperCacher plugin for a faster website

WordPress & Joomla staging that allows you to make a copy of your site to test new plugins for updates before applying them to your live site.
No Hidden Fees
Now, in this section of the SiteGround review, I will discuss whether they charge a hidden fee?
Well, they are very transparent and show every detail about your plans very clearly. 
When you click on the comparison list or comparative list of plan details, all plans are displayed for which all rates and percentages are very clearly stated. 
You can get the information by simply hovering your mouse over any content in the list.
In addition, they show in the support section the priorities that are given according to the plan you choose. They also show the uptime of their services throughout the month and year on their website. 
So feel free to buy and read the information before choosing a plan.
SiteGround 24/7 Support
What if something bad happened and you don't know what to do? So you need support services to solve the problem.
But what if the support team doesn't respond to you properly or directly?
This will create a more terrible situation; you will lose visitors and income too. So in the case of SiteGround, you don't need to worry about support.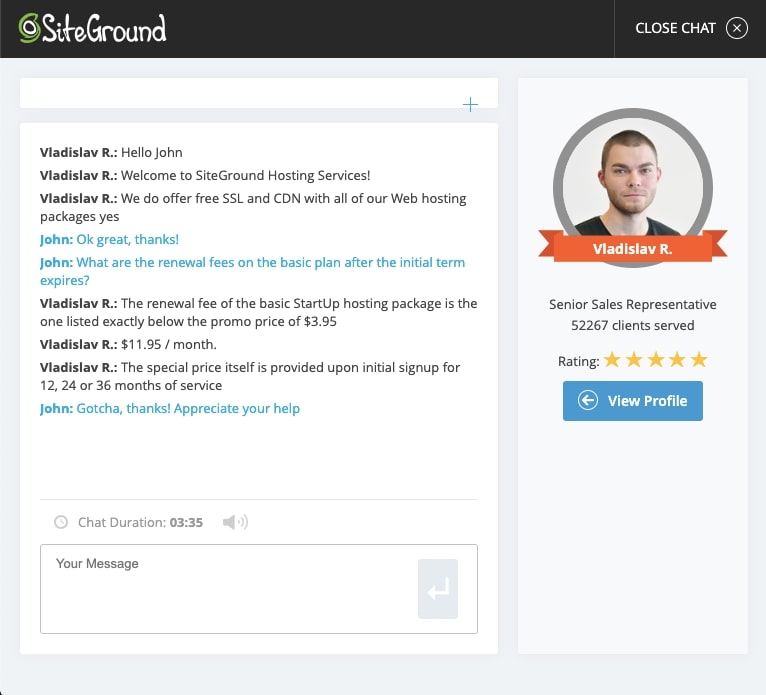 Their support team is very active and always available to help you.
Their support team is very informative, trained, and responsive to solve their problems in no time and guide customers as quickly as possible.
Additionally, they maintain their team profiles on the website to create a trustworthy environment.
There are three ways to contact them 24 hours a day, 7 days a week through tickets, live chat, and phone.
I have a good experience with them and would like to give 9 out of 10. So when it comes to supporting you don't have to worry and buy SG hosting without a doubt.
No matter what time it is, Siteground is available 24/7 to answer your questions and get a quick answer. This can be done by chat (direct), e-mail (usually within 15 minutes), and telephone.
SiteGround Limitations
So, I have shared all the useful features they offer, but wait, there are also some drawbacks, let's talk about it.
Limited Visitors
Unlike other hosting companies, SiteGround plans (Shared and WP Managed) are limited to a particular number of visitors per month. The number of visitors varies from plan to plan.
The very basic plan is the StartUp plan that allows 10,000 visitors per month. This is a small number of visitors, but this number of visits is adequate for a very new blog and small websites.
If you are going to start a new blog then it will be a great option to start with SG. So while purchasing the plan, choose it wisely according to your requirements, don't choose bigger plans.
You can purchase the "StartUp" plan for only $ 6.99 per month due to a 60% discount using our exclusive link, while this plan normally costs $ 14.99.
Bit Expensive
SiteGround is a bit pricey when we compare it based on storage, websites to host and visitors allowed per month. Many other hosting companies offer more storage space like 50GB or 100GB in their basic plans, but SiteGround only offers 10GB.
Also, some companies receive unlimited bandwidth at relatively low prices. If price really matters to you then there are plenty of other hosting companies like InMotion (our recommended WordPress hosting)  otherwise SiteGround is a solid option to choose from.
Therefore, it is clear that the prices are a bit high, but they are very efficient in delivering speed, uptime, security, and support, which makes them expensive.
Limited Storage
If we compare the storage space with the other hosting companies, then it is a little less. But storage may not be a problem in case of a descriptive blog/website type.
By descriptive nature, we mean that if your blog is mainly based on the content of the text, then the space offered by the company in the "Startup Plan" is sufficient.
But it could be a problem if you use it to load more space-consuming software and similar content. So if you are a novice then the StartUp plan is suitable for almost all kinds of websites and when your traffic grows then switch to the higher plan.
Why do I recommend SiteGround hosting??
Because the type of services they provide compared to the price is remarkable; especially uptime, speed, security, and support services. Also, since WordPress is the most widely used platform, SiteGround offers some unique WordPress related features that come in handy. 
If you are looking for WordPress hosting, then SiteGround is the best hosting for your website.
Conclusion
If you are looking for web hosting with high speed, uptime, and fast support, buy SiteGround without a doubt. The thing to remember is the package hosting, prices, and limitations.
In addition to prices and restrictions, they offer plenty of free features. If you have a website with massive traffic, then SiteGround is the best.
In our view, prices are adequate because they are delivering a lot of quality features. So if the price is not important to you, go to SiteGround.
Plus, they currently offer a 60% discount on the StartUp plan, so prices are almost the same as other low-cost hosting companies' plans – just click on this link and get a big discount.